Cyclic Peptides and Branched Peptides
Cyclic Peptides and Branched Peptides
Constraints by cyclization at either the backbone or side chain of the peptide are expected to reinforce and enhance the stability of the 3D-structure, such as α-helix, as well as the increment of the resistance to the enzymatic digestion.
Cyclized Peptides
cyclo(X1-X2——–Xn)
Head-to-tail cyclization

X = NH : polypeptide
X = O : depsipeptide
e.g.) Code
4464-v
[D-Leu
7
]-(-)-Ternatin
(including N-methyl amino acids)
Diketopiperazine


R=H : cyclo(X-Pro)
R=OH : cyclo(X-Hyp)

cyclo(X-X)
Staple peptide
site-specific ligation using olefin metathesis
Cyclization at side chain

Lactone/Thiolactone

X=O : lactone
X=S : thiolactone
Thioether

Branched Peptides(Isopeptides)
Branched at Asp/Glu

n=1 : Asp
n=2 : Glu
Branched at Lys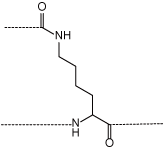 Branched at Ser/Thr

X=H : Ser
X=CH3 : Thr
We have lots of successful syntheses of the cyclic peptides as well as the branched peptides.
Please contact us at the department of custom services when you intend to modify your peptide by cyclization or branching.