Policy and Message
Policy
Contribution to the development of life science by the know-how cultivated in peptide synthesis
Message
Expanding the frontiers with more than half a century of experience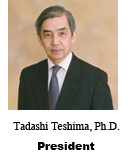 Peptides have various physiological functions which are essential for maintaining homeostasis in living organisms. Today, they are increasingly attracting attention in drug discovery activities thanks to advances in peptide-based drug delivery systems that offer high efficacy and specific properties together with safety. To respond to growing needs for such peptides, in October 2006, operations began at a Research Center that included a GMP (Good Manufacturing Practice) facility in Saito, Ibaraki City, Osaka Prefecture. Subsequently, we improved both the software and hardware of GMP peptide synthesis and are supplying the bulk of pharmaceuticals and the peptide for clinical research.
Peptide Institute, Inc. traces its beginnings to the Protein Research Foundation, which in 1963 was the first in the world to market reagents for peptide synthesis. For more than half a century, we have been widely contributing to the advancement of life sciences through our research on amino acids, peptides and carbohydrates. This reflects our management policy of contributing to the development of life science and operating as a unique enterprise in this field.
In the future, we will continue to build on our tradition of expertise and technology to advance the aim of establishing a company that may guide from basic research reagents to bulk of pharmaceuticals.
We look forward to your continuing support of our endeavors.