Urotensin II-Related Peptide (Human, Rat)
Endogenous Ligand for Urotensin II-Receptor in Rat
The precursor sequence of rat urotensin II (UII) was reported in 1999 [FEBS Lett., 457, 28 (1999)]. Tentative rat UII (Code 4371-v) was chemically synthesized based on its

predicted precursor sequence and confirmed to possess potent vasoconstricting activity, as well as hypotensive activity. However, nothing has been reported since then concerning the endogenous form of rat UII.
Recently, Sugo and cowerkers of Takeda Chemical Industries, Ltd. have reported the discovery of an endogenous peptide in rat brain[Biochem. Biophys. Res. Commun., 310, 860 (2003)], which was detected using an antibody against goby UII. Actually, they identified sole immunoreactivity in a single entity and the determined primary structure resembled that of UII. Therefore, they termed this newly identified peptide, urotensin II-related peptide (URP).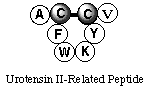 The cDNA sequence of rat URP was then determined, showing that this peptide sequence is flanked by the potential processing site, Lys-Arg, at its amino-terminus. Applying these same procedures, human and mouse URPs were also elucidated and determined to be identical to rat URP.
This newly discovered URP shows: i) a saturable binding activity to human and rat UII receptors (UIIRs) with high affinity (Kd = 170 pM and 91 pM, respectively), ii) a Ca2+ mobilization activity in the Chinese hamster overy cells expressing human or rat UIIR with ED50 values of 4.8 nM (human UIIR) and 0.55 nM (rat UIIR), and iii) long-lasting hypotensive effect in anesthetized rat at 10 nmol/kg dosage levels. Even though tissue levels of prepro-URP were found to be abundant in both human and rat, the distribution is different in both and also distinct from that of UII.
Now, that the endogenous form of rat UII peptide "urotensin II-related peptide" has been clarified, this should allow for more precise experiments concerning the biological activities elicited by the UII family of peptides.
| | | | |
| --- | --- | --- | --- |
| Code | Compound | Package | Price(Yen) |
| 4408-v | Urotensin II-Related Peptide (Human, Rat) | 0.5 mg vial | 12,000 |
Related Products
| | | | |
| --- | --- | --- | --- |
| Code | Compound | Package | Price(Yen) |
| 4365-v | Urotensin II (Human) | 0.5 mg vial | 20,000 |
| 4371-v | Urotensin II (Rat) | 0.5 mg vial | 20,000 |